Ricardo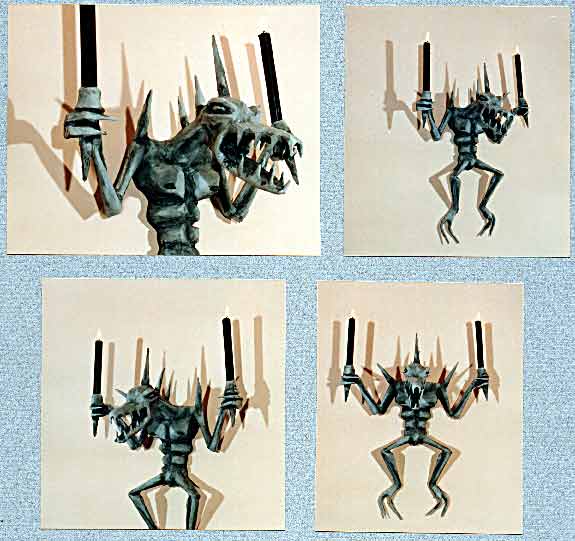 Ricardo is a candle holder designed for wall mounting. He is one of the few entirely wingless creatures. His elongated reptilian grin is lit from beneath by the twin candles. Ricardo makes an impressive wall accent--his open mouth seems ready to make his displeasure with this world known. Ricardo's head and hands extend outward approximately 3", yet the lower half is sufficiently flat to avoid grabbing mishaps, (which may happen with wall mounted pieces) allowing sufficient clearance for low mounting applications. Perfect to place over a buffet table.

Each candle cup is made of brass for added safety.

Size: 23" tall by 15" wide by 3" deep.

Contact the artist for custom matching sets. 480-829-3554. Larry LoPresti.




Ricardo


Item#

Price

RIC301

$99.00

Imagine the atmosphere created by this monster in a candle-lit dark room.
If you would like this item, write me or call me. The Price is $99. I accept checks or money orders (I do not accept credit cards for security reasons). Make check or money order to Larry LoPresti.
Larry LoPresti
709 S. Starley Drive
Tempe, AZ 85281
Phone: 480-829-3554
These WWW pages ©2002 LoPresti Gargoyles. All Rights Reserved.